Wheel Balancing vs. Wheel Alignment

In order to keep your vehicle running smoothly on St Charles roads, it's important to keep up with regular maintenance on your vehicle's tires. There are two different types of tire services: wheel alignment and balancing. Wheel balancing and wheel alignment are actually two different services, so it's important to understand the differences before scheduling an appointment at your local Biggers Mazda service center.
What is Wheel Balancing Service?
Wheel balancing is a service that helps keep your tires equally balanced. This should be done regularly as wheels lose balance over time and when they are unbalanced, this can cause the shaking of the steering wheel while driving. This can be unpleasant on your Schaumburg commutes. Unbalanced tires also cause the tires to wear differently, as one part of the tire is heavier than the others.
Balancing your tires regularly ensures a smooth ride. This minimizes tire bouncing, improves traction and control, and extends the life of your tires. It's recommended you have your wheels balanced when you get your tires rotated every 5,000 to 6,000 miles or every 6 months.
What is Wheel Alignment Service?
Wheel alignment should be done as needed, but doesn't need to be part of your routine maintenance. When you have your wheels aligned, which is sometimes referred to as a front end alignment, the service technician will make sure that the tires are perpendicular to the road and parallel to each other.
If your vehicle's wheels are out of alignment, this can result in excessive, uneven tread, unnecessary wear and tear, and even steering issues. Once you notice this problem, have the wheel alignment checked as soon as you can. This may also cause vehicle pulling, which can drift you into the next lane as you're driving through Geneva.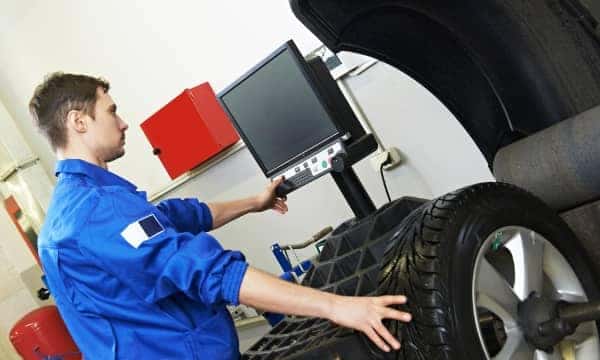 Wheel Balancing vs. Wheel Alignment: Which do You Need?
Learning about these services will help you have a better understanding of which you might need. Can't remember the last time you had your tires rotated or aligned? Schedule an appointment at Biggers Mazda. No matter the services you need, contact the service department at Biggers Mazda to learn more about our service specials, genuine Mazda parts, Mazda maintenance schedules, and more!
More About Biggers Mazda Service