What is Good Mileage for a Used Mazda?

Elgin drivers in the market for a new Mazda vehicle may be considering a pre-owned option. As a proud pre-owned Mazda dealership, we understand the allure of a used vehicle that doesn't suffer a drive-off-the-lot depreciation like a brand new car does— not to mention the overall financial savings. But what is good mileage on a used car you may be interested in? In the following guide, we'll answer this question.
What is Good Mileage on A Used Car?
the mileage and the car's age— lower is typically better, but not always. Sometimes an older car with fewer miles can present more issues than a new car with more miles. A car that went unused for periods of time can have mechanical problems due to neglect and lack of driving. So, there are always multiple factors to consider when it comes to a pre-owned car, not just mileage.
As a used-car shopper, you may be wary of any odometer that reads with a 6-figure mileage count. Before you discount that car, it is important to consider both
Used-Car Buying Tips
In addition to mileage, the following elements should be regarded just as importantly during your search for a pre-owned vehicle in Schaumburg. Often, looking at the balance and bigger picture of all the following factors can help you make the most informed decision.
The vehicle's driving history. What kind of owner had it before? Did they do more city driving or highway driving? This can help you determine what kind of miles are on the car.
Where was the vehicle driven? Regions with seasons and harsh winters will wear more heavily on the car as it encounters ice, salt, etc.
Confirm the vehicle's condition. An inspection by a certified mechanic is important. If the used car dealership doesn't mention that a factory-trained technician conducted a multi-point inspection prior to putting it on the lot, have your mechanic do it instead.
The maintenance history is incredibly important. Knowing how, if, and when the vehicle was serviced in years passed can help you know what parts are new, problematic, or need replaced.
The car's price. What are you getting for what you'll pay? Do you just need an affordable vehicle to get you around St Charles, or are you looking for something long-term?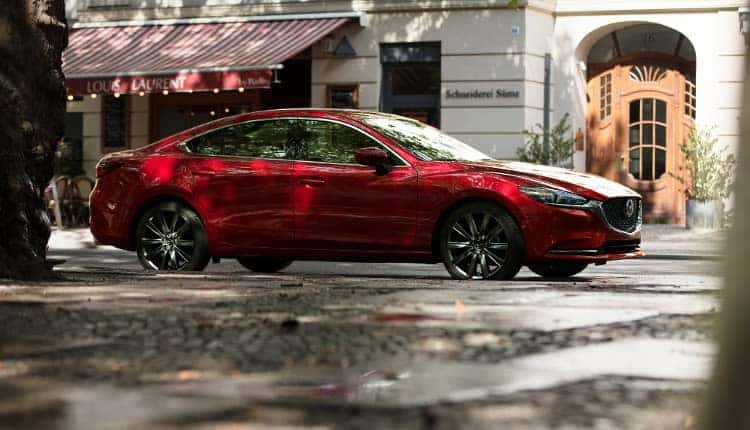 Shop our Used Mazda Inventory
Geneva drivers looking to browse our impressive and pristine used Mazda vehicle inventory, learn about leasing with bad credit, or learn about our Mazda lease deals, are encouraged to contact our team today. We're standing by to answer any of your questions like "what is good mileage for a used car?" or "what is the difference between used and certified pre-owned vehicles?" Don't hesitate to come by or reach out.
More From Biggers Mazda
Driving in Schaumburg is great when you're in a 2020 Mazda3, and it's made all the better when you take advantage of the great Mazda3 accessories. We're going to tell you all about the Mazda accessory suite and point you toward some Mazda service coupons and specials. View InventoryContact Us Exterior Accessories You'll look great…

There's a wide variety of 2020 Mazda6 configurations for drivers to choose from. Each offers high-end technology, advances in safety technology, and so much more. Learn about what each trim level has to offer for the price and choose the one that best fits your driving needs on St Charles roadways. Learn MoreBrowse Inventory 2020 MAZDA6…

2020 saw big changes to the Mazda CX-3 trim levels: three 2019 trim levels have become one in 2020. That's great news for car-buyers, because the 2020 Mazda CX-3 combines key features from all three 2019 Mazda CX-3 trim levels. Read on to see how Schaumburg drivers benefit from a long list of newly standard…