Mazda's Hiroshima Museum is Now on Google Maps Street View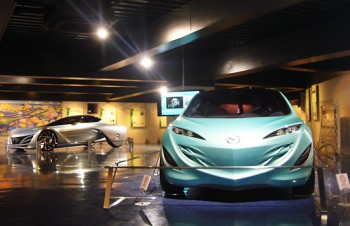 If you're a Mazda fan, then a trip to the Mazda Museum should be on your bucket list. Of course, our Elgin-area car dealership is quite a ways away from Hiroshima, Japan, and just the plane tickets are going to be pretty expensive. Fortunately, there's a unique, temporary solution for those looking to check out all those classic vehicles. Believe it or not, Google Maps can now get you inside the museum.
View the Museum in Any Direction
While certainly unconventional, Google Maps has mapped the Mazda Museum for its street view service. This allows you to turn and look in any direction. Unlike a Youtube video, you get to move throughout the museum at your own pace. You can even get close enough to the cars to read some of the informational placards. This is pretty much the next best thing to actually flying to Japan.
Vehicles on Display at the Museum
There are multiple exhibits at the museum; most car owners will want to check out the History exhibit first. This is where you'll see classic Mazda models that took the brand to what is today. You'll see everything from the Mazdago—the three-wheeled hybrid pickup/motorcycle that was the first car produced by the brand—to the first ever MX-5 roadster.
Be sure to also visit the Technology exhibit. You'll get to see what Mazda is working on these days and learn more about SKYACTIV technology. Better yet; come to Biggers Mazda and take a test drive of one of our new models.
How to Access the Virtual Tour
While you can fiddle around on Google Maps until you find the museum, the Mazda website has a section dedicated to the virtual tour. You'll be able to click through to five different sections of the museum and then go from there.
History of the Mazda Museum
Mazda has been in business since the 1920s, but they didn't get their own museum until 1994. It's located in Hiroshima, Japan, very close to the company's central headquarters. In 2005, the museum received a substantial renovation and now hosts six spacious areas and a gift shop.